Currently in read-only mode as we will be migrating to another server! Our apologies for any inconvenience - between having the site 1) in read-only mode; or 2) kept as-is but with continual crashes, read-only mode was the best option. Disqus commenting and episode stream (re-)uploads are still functional.
Episode #452 - Demon's Whispers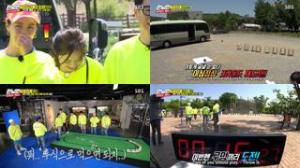 Broadcast Date: 2019-05-19 (filmed on 2019-05-07)
Rating: 8.1%
Watches: 35 (alexzheng, angelicious, anta, bonzai, burningmetal, cchow97, chapalin, chenhau, d1luvrm, deadoff, dry, epic, filianalter, harambenudes, itsamizer, itzsamuel, jennifer, joy2816, kenjienx, kucinkampung, maulvader, minzysbooty, niuxvip, olivias, ozzphs, runningmanph, ryesims, undesconocido, yua, zuchat, 5 private users)
Faves: 11 (alexzheng, dry, harambenudes, jennifer, minzysbooty, ozzphs, runningmanph, ryesims, zuchat, zxopa, 1 private user)
Appearances (0): none
Tags:
Watch
While we are ad-free, the stream hosts are known to show ad pop-ups. For your protection we recommend installing uBlock Origin:
Firefox
|
Chrome
This note will disappear once a suitable ad blocker is detected. If uBlock Origin is installed and this message is still showing, ensure the EasyList filter list is enabled.
Episode Streams:
To download the above streams you can try the OpenVideo FastStream browser extension: Firefox | Chrome
Download:
You can download our hardsubbed episode in true 720p quality here:
ac8d4bf3134c45ea880b06d3d06ab132795e4374
To download, please install a Bittorrent client - we recommend qBittorrent or Transmission - and click on the Magnet link or copy/paste it into the client.
We only seed the download for a week, so please help out other fans by seeding!
Discussion
---
What's New (2018-10-24): added ability to download episodes (starting with ep. 423) via Bittorrent! Please seed for other fans :)
Statistics
(as of 2019-05-21):
452 episodes, 836 guests, 5132 streams, 522 tags, 46 to reup
2499 users, 42376 watches, 9347 favorites, 3148 plans to watch