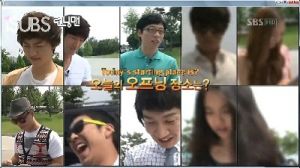 #002 - Suwon World Cup Stadium, Part 1
2010-07-18 7.9%
Goo Hara (Kara) Lee Chun-hee Song Ji-hyo
charades diving goldenpig idol jumping money peacefulgary photo platform pool rockpaperscissors soccer songjihyo stadium
In this episode Lee Chun Hee and Goo Hara join in with the cast as they venture through Suwon stadium. The mission in this landmark is to find the "golden pigs", which have undisclosed amounts of coins in them. The teams are split into the "Away" and "Home" teams and the victor becomes the team with the highest amount of coins!
841
98
11.65%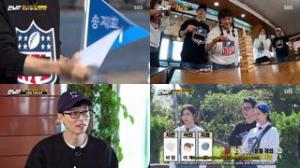 #527 - Jeju Island Special Part 1: Wind, Women, Rocks, and Bomb
2020-11-01 7.1%
Choi Yeo-jin Han Ji-eun Lee Joo-bin So Yi-hyun
athleticgames badjihyo bestof2020 bestofkwangsoo charades cheaterkwangsoo competitiveguests food funguests gangsterjihyo hongjin jeju jenga membersfunnystories personalstories
This week, Running Man visits Jeju Island in a very long time and gets the cast pumped up. Guests Han Ji Eun, Choi Yeo Jin, So E Hyun, and Lee Ju Bin join them as team leaders for the race. The wind, women, and rocks will represent Jeju Island as each team tries to collect one of each card through a series of missions and games. However, there is a bomb card capable of dropping them out of the race. Like always, the losing team faces a penalty, and the winning team wins a prize.
428
70
16.36%