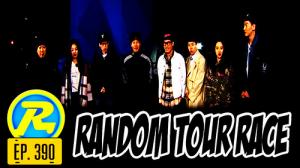 #390 - Global Random Tour: Mission Impossible
Heo Kyung-hwan Lee Sang-yeob Shorry J (Mighty Mouth) Yoo Byung-jae
food foodmission funny international japan mustsee randomtour stepcounter thailand travel unluckykwangsoo
This week, the Running Man members have a Random Tour Race. They will be divided into three groups. In order to determine their team, they will have to stand up, sit down, or lie down. The losers will not get a water bomb this time but will be forced to go home later than everyone else. Once the teams are created, they ride the bus and end up at Incheon International Airport. Where could they be going?
405
83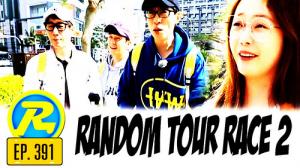 #391 - Global Random Tour: Mission Impossible (2)
Heo Kyung-hwan Lee Sang-yeob Shorry J (Mighty Mouth) Yoo Byung-jae
bangkok fishing food international japan randomtour sonnaeun stepcounter
This week, it's Random Tour Race Part 2. The three teams have left Seoul. Jae Seok, Seok Jin, So Min, and Kyeong Hwan are in Okinawa, Japan. Jong Kook, Se Chan, Shorry, and Byung Jae are in Thailand. Finally, Haha, Ji Hyo, Kwang Soo, and Sang Yeob are in Daema Island. The sly Running Man member, Kwang Soo, and the naive star, Sang Yeob, clash with each other repeatedly. Meanwhile, Jae Seok gets traumatized by So Min. Will these three teams be able to have a safe trip?
394
88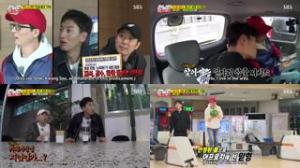 #397 - TV Rating Notice Part 2: Infinity War
Jo Se-ho Lee Jong-hyuk Lee Young-eun Park Jung-min
bowling finding missions stepcounter tvratingnotice
This week, the Running Man members take a break from the Family Package Project and have TV Rating Notice Race Part Two. Not only will the winner get to direct the five-second tv rating notice, but they will also be allowed to handle the poster and photo on Running Man's official website. Furthermore, the posters will be distributed all over the broadcasting station. Each of the members draws their own creative vision for the rating clip. Ji Hyo plans to dress everyone up as kaonashis, while Jae Seok is inspired by 'The Greatest Showman'. So Min forgets to add Seok Jin to her clip! Who will win the race and become the director for the next TV rating notice?
355
21