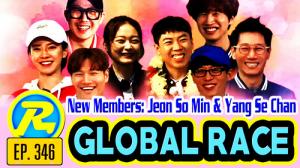 #346 - Running Mate - Dangerous Room
No guests
betrayal conveyorbeltgame newmembers noguests nonsensegame waterbomb
This week, the members welcome two new Running Man members: Jeon So Min and Yang Se Chan. They are divided into two groups and go through different missions. Through each of these missions, they either obtain or lose a point. The member with the lowest points in total will be sent abroad to face their punishment.
259
53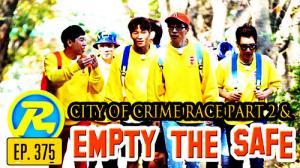 #375 - City of Outlaws Race (2) / Mystery Autumn Trip Race
Ha Yeon-soo Jo Se-ho Kang Daniel (Wanna One) Noh Sa-yeon
betrayal items money ripnametag runningballs waterbomb
This week, the Running Man members continue off from where they ended last week. Each of the three gangs have a safe that contains all their capital. They need to rip each other's name tags to find out where the opposing safes are. Which team will meet their victory?
256
17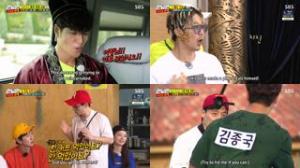 betrayal court grimreaper judge
Jae Seok, Haha, and Ji Hyo's birthdays are in August. For this week, Seok Jin, Jong Kook, Se Chan, So Min, and Kwang Soo are called in and told to choose between a birthday cake and a birthday punch. They are divided into teams by their choices, and each team is given an opposite goal. The failing team will suffer an incredible penalty. Which team will fail with their mission? Stay tuned to find out!
247
35