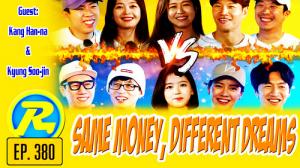 #380 - Different Dreams on the Money Race
investing money secret shoethrowinggame teams waterbomb
This week, the Running Man members are joined by Kang Han Na and Kyung Su Jin. Today's race is called 'Same Money, Different Dreams'. They will be divided into two teams, and through games, the winning team will be determined. Furthermore, the individual in the winning team with the most amount of money will be the final victor.
199
10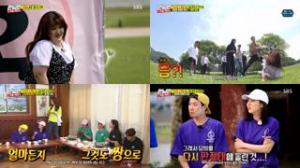 Kyung-ri (Nine Muses) Lee Guk-joo Seo Eun-soo Son Dam-bi
couplerace dancing fakeidentity food platform poppingchips secret teams voting waterbomb
In this week's episode of Running Man, Son Dam Bi, Seo Eun Su, Lee Gook Ju, and Gyeong Ree join the show. Total six couples are formed and among them, five are thieves and seven are civilians. Also, there is Boss, the leader of thieves, and King, the leader of civilians. Team Civilians wins if the members eliminate the Boss while Team Thieves can win if they eliminate the King. Which team will get to win the race? Stay tuned to find out!
201
28