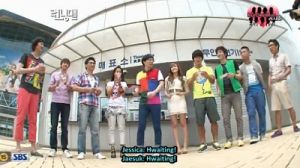 #004 - Gwacheon National Science Museum, Part 1
2010-08-01 7.1%
Jessica Jung (Girls' Generation) Nichkhun (2PM) Song Ji-hyo
curling goldenpig idols museum pool rain ripnametag trilobite typhoon wind
An exciting day at Gwacheon National Science Museum. Guest appearances from Nichkhun and Jessica will make this a spectacle to see. The teams this time are divided into "Child" and "Adult" team, and the mission is to find the "Golden Pigs" with the most money!
804
110
13.68%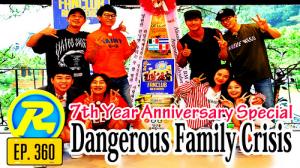 #360 - 7th Anniversary Special: Real Family Outing (1)
2017-07-23 8.2%
Cheon Sung-moon Jeon Wook-min Jo Se-ho Kim Jong-myung Kim Soo-yong Park Geun-sik Son Na-eun (Apink) Tae Hang-ho
anniversary armwrestle badweather competitiveguests dancing drawing family framerkwangsoo friends funguests funny garycameo goofyguests idol kwangmong membersfamily membersfunnystories mentionofjoongki nostalgia personalstories rain siblings teasingkwangsoo ugliestmemberdebate
This week, Running Man celebrates their seventh anniversary. The members' friends and family also come to visit. Cho Sae Ho visits Jae Seok, and Son Na Eun visits Se Chan. So Min's brother, Wook Min, and Ji Hyo's brother, Sung Moon, also come to their sisters' aid.
592
185
31.25%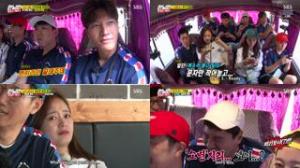 2018-06-10 7.2%
No guests
369 asmr busgames bustalk eat food lemons noguests rain singing tapes teasingkwangsoo teasingseokjin unluckyseokjin
This week, the Running Man members are given a treat. In order to rejuvenate them from the soon-to-come, scorching heat, they are allowed to eat all kinds of hearty meals. Their mission is to finish a total of 20 servings in 5 hours. However, not all the members can eat every time. Will the members be able to finish 20 servings of food in the given time?
535
49
9.16%