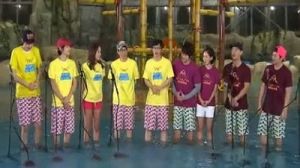 #031 - Alpensia Ocean 700 Water Park
beachwear breadstick bridge cramp dancing elimination findtheguest gaze karaoke pool rockpaperscissors runningball splashing waterpark
In order to challenge the Running Man team, the FD (Floor Director) has set up special obstacles at a water park: find the guest, karaoke challenge, and an Indiana Jones-esque bridge. This episode kicks off with the RM team outside in beachwear during winter.
335
61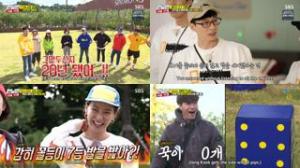 No guests
candy dice doors food fun gourd mattress noguests plastic quiz ranking splashing styrofoam water
This week, it is all about ranks. First, the members turn a roulette that has all their names on it to decide who will be the first person to decide on the rankings. They will go through various missions and answer questions in order to change the order of the rankings. Meanwhile, one of them knows the answers to all the questions. If the other members can find out who this absolute member is, he or she will be put in last place and receive a penalty. Who is this absolute member, and who will be the ultimate winner?
239
36