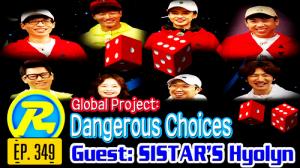 betrayal food housewarming luckyjihyo monopoly secretmission ship sportsmassage stinkyfeet visithome whale
This week, the members continue with their Global Project that expands more than just Asia. They barge into the unsuspecting Se Chan's house. They check out how Se Chan and his brother, Se Hyeong, live. While looking around, the members find an interesting object in his house. At his house, they do a series of missions. If the members succeed, they will be able to go home immediately. If not, two of the members will be required to wake up at 5am the next day.
395
39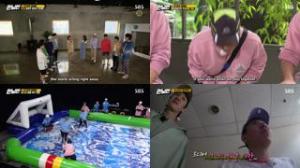 #504 - Crossroads of Choice: Too Much Dilemma
Kim Jae-kyung (Rainbow) Kim Min-kyu Shim Eun-woo
coins english goodguests soccer visithome
This week, actors who have faced a dilemma visit the show. Sim Eun Woo is a rising actress who showed impressive acting skills in 'A World of Married Couple.' Kim Min Gue shows off his charms in both variety shows and drama. Kim Jae Kyung is a versatile entertainer who can act and sing. These stars join the members to participate in Coin Dilemma.
301
59