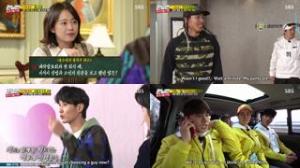 Ha Seok-jin Kim Ji-seok Lee Yi-kyung
bts chasing crazysomin dance date flour goodguests jblack lovefrogsomin mmary racekart secretmission somin tango teamwork
Special events for So Min's birthday continue. After having a meal at a fancy restaurant, So Min and Ji Suk move on to learn how to dance the tango. And another man is expecting So Min to come there. Meanwhile, the other Running Man members are busy solving the quizzes and completing missions as fast as they can to catch So Min.
326
50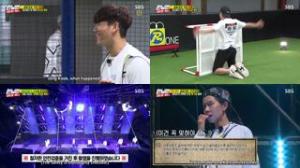 No guests
betrayers flogging flour kookminsiblings luck luckyjihyo noguests platform quiz raceofwits schemerharoro tricksters unluckyjaeseok unluckysomin
The members are split into groups and play games to obtain Chance Cards which can be used in the final race. After two rounds of games, the members arrive at a giant and dark place for the final race. They need to solve the riddles of Sejong the Great to be the final winner. Also, a harsh penalty awaits those who get eliminated.
315
19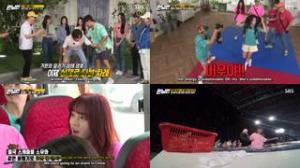 #513 - Capitalistic Race with Partners: Don't Worry Be Happy
Jang Won-young (Iz*One) Kim Do-yeon (Weki Meki) Kim Dong-jun (ZE:A) Mi-joo (Lovelyz) Song Yuqi ((G)I-dle) Soyou (Sistar)
auction badjihyo bidding bustalk couplerace dance flour gangsterjihyo idols jaeseokannoyingkwangsoo lovefrogsomin membersfunnystories money mustwatch partners teasingkwangsoo
This week, six guests join the members to continue the race to win as much money as they can. The guests are Soyou, Kim Dong Jun, Jang Won Young, Kim Do Yeon, Lee Mi Joo, and YUQI. They partner up with the members and carry out the missions to win the prize and prize money. The team that comes in last receives a penalty.
308
70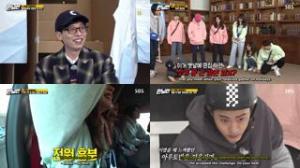 Choi Soo-young (Girls' Generation) Lee Yeon-hee Yoo Tae-oh Yoo Yeon-seok
bustalk flour playfuljaeseok yutnori
This week, the members are joined by the four leads of the upcoming movie, 'New Year Blues,' Yoo Yeon Seok, Lee Yeon Hee, Choi Soo Young, and Yoo Teo. Since it's the last episode of 2020, the guests and the members participate in missions where they send off the old year and welcome the upcoming year. Which team will win and which team will get the penalty?
248
38