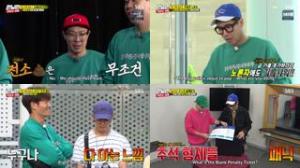 This week, the Running Man members will finally be able to find out the secret behind the briefcase they tried their best to deliver last week. The briefcase has a three-digit passcode, and through various missions, the members will receive hints regarding the passcode. Furthermore, Jang Do Yeon joins them as a host and a mysterious woman who is in charge of the briefcase. What is the hidden truth behind this briefcase?
152
21
Han Bo-reum Hani (EXID) Kim Hye-yoon Mingyu (SEVENTEEN) Seungkwan (SEVENTEEN) Solji (EXID)
balloons idols likes seventeen socialmedia teams videos waterbomb
The members of Running Man and six guests need to make their names or keywords searched online during the time this week's episode airs. The one who is most searched online will receive a benefit. Also, they create and upload videos online to promote themselves. The one that gets the most number of likes will win a prize. Stay tuned to find out the winner.
133
15