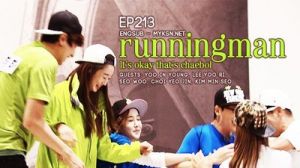 #213 - Running Man Mini Series - It's Okay, That's Chaebol
Choi Yeo-jin Kim Min-seo Lee Yoo-ri Seo Woo Yoo In-young
acting chaebol couples fiercegirls float mud mustwatch platform pool ripnametag scavenger shredder slap water whack
Couple teams are formed with actresses who play villains in dramas. They must find the guy who has the second generation of inheritance. Mud pool platform and timed shredder challenges are held where the winning team receive hints. In the end a nametag elimination match is held where each actress must stand on a platform with the nametag of the suspected rich guy.
172
72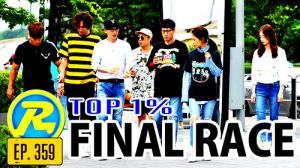 #359 - Somewhere 1%: I GO, STOP Race (5)
No guests
This week, the Running Man members are on a chase again. The members have to face the 'flying chair' in fear. The device makes So Min shiver in fear and all the other members shake their heads in shock. Find out where the final destination is for the losers of the race.
138
12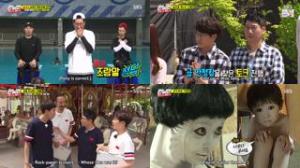 #401 - TV Rating Notice Final: Director Battle (Game of Thrones)
Cheon Sung-moon Han Ki-beom Han Min-gwan Jo Woo-jong K.Will Lee Jong-hyuk Oak-Jeong Kim Seo Ji-seok
costumes launchchairs pirateroulette pool quiz twin
Today is the day the Running Man members will find out whose TV rating notice storyboard they will use. The members are greeted by the pirate roulette game and a flying chair. They play a quiz game, and whoever does not get the correct answer will be flown backwards into a pool. Which member will have the honor of actualizing his or her TV rating notice?
149
22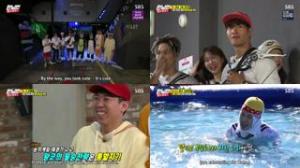 Jennie Kim (Black Pink) Jin Ki-joo
For this week, the Running Man members go on a vacation. However, not only is it a vacation, but it is an 'Unlucky Vacation'. The members are divided into two teams, and among them, the unlucky ones and the lucky ones partner up. Every time a team wins, they receive one point and also the right to pick a penalty for the losing team. Will the lucky members be able to live up to their name? Or will the unlucky members regain their honor?
155
32